Carolina Morgan Photography
Bombo Headland Wedding Photography | Elope in Kiama
Epic Bombo Headland Wedding Photography, and a few reasons why you should
Elope in Kiama, on Sydney's South Coast.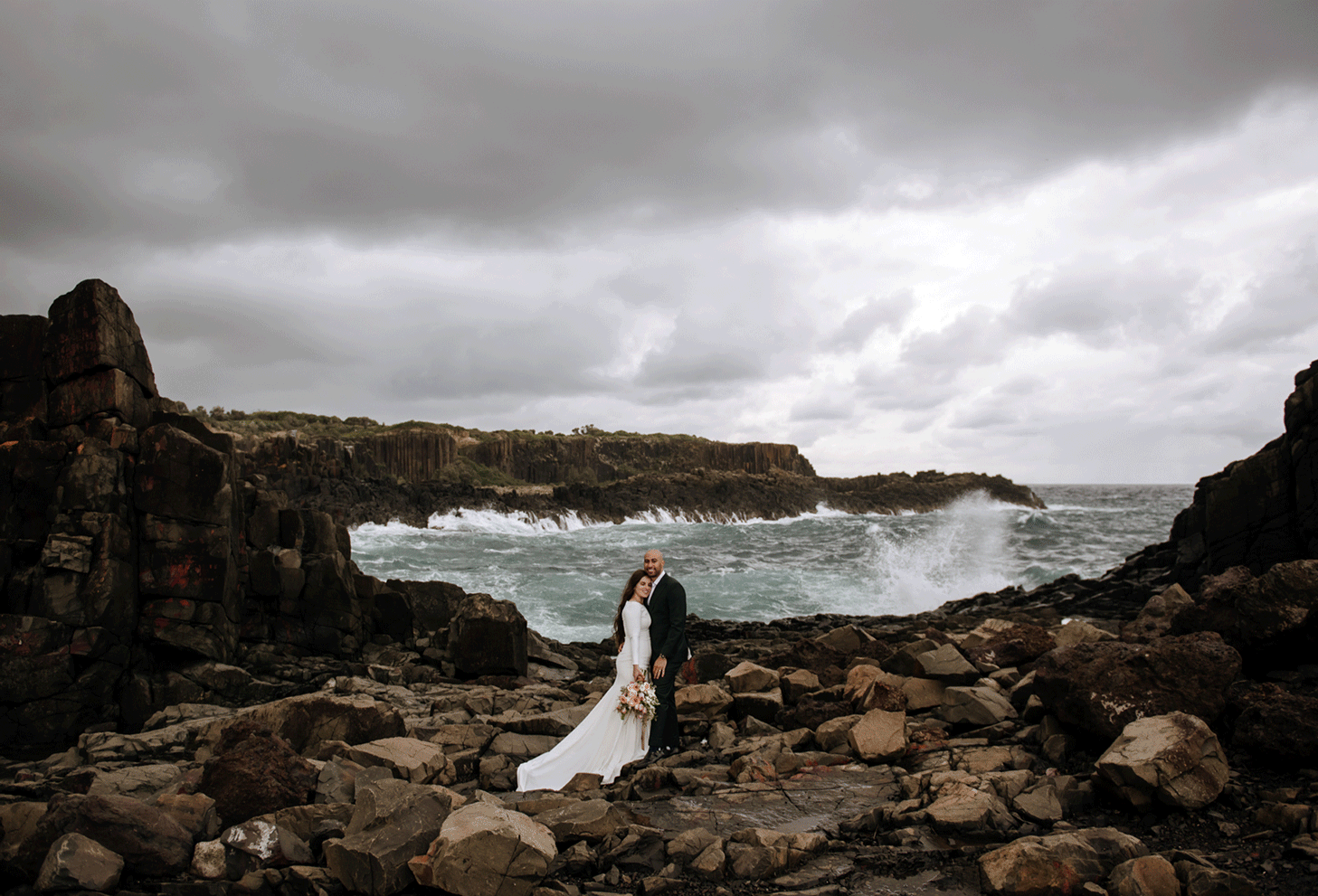 It's no secret that New South Wales' South Coast is home to some seriously amazing scenery that would make for an amazing wedding photography or elopement backdrop. But when I stumbled upon Bombo Headland, in Kiama, I was amazed. Not only did this spot remind me immediately of Iceland's famous dramatic rock formations, it's also relatively easy to access and has so much variety. I just knew this spot had infinite potential for wedding portraits, and so I put together the dream team to showcase the magic for you – a little glimpse of what your own amazing Bombo Headland Wedding Photography could look like…
BOMBO HEADLAND WEDDING PHOTOGRAPHY


Cathedral Rocks: Kiama Downs Wedding Inspiration
Way back when, as a teenager, I watched a documentary about Iceland, and I've dreamed of visiting ever since. The landscapes seemed so beautiful and so out of this world!! It was a dream that just kept growing, especially after becoming a wedding photographer. Then one day, a few years after I moved to Sydney, I found myself scrolling through some photos that I thought were of Iceland. The dark, textured rocks, the way the green grass arrived almost to the shore, the splashing of the saltwater. Except it wasn't Iceland. It was Australia. In fact, it was in my very own backyard at Kiama's Cathedral Rocks, just a 1.5-hour drive from Sydney.
While I'd always dreamed of visiting Iceland and taking photos there (and I still do!), planning a styled Bombo Headland Wedding Photography session seemed like the next best thing. So, I put together a team and we all took inspiration from the moody romance and raw wilderness of Iceland, with an Aussie South Coast twist. Of course, we couldn't have planned the moody weather – it rained so much we nearly had to cancel! – but in the end, it only added to the Icelandic feel.
Bombo Headland Wedding Photography
My Amazing vendors! Get to know more about them at the end of the Blog.
Asides from the actual location, the biggest difference between BomboHeadland and Iceland's famous rock formations is that Bombo's moon-like features are a result of mining, not volcanic activity. It's why the area is also known as Bombo Quarry! But in the end of the day, that doesn't really matter if you're considering Bombo Headland Wedding Photography. What matters is that this is a truly epic, romantic location. Whether you're looking for an intimate wedding ceremony location, thinking to Elope in Kiama, or just want an epic spot for your wedding portraits, Bombo Headland is worth considering!
Asides from its famous dramatic rock formations, Bombo Headland is also home to a dramatic coastline, lush greenery, rock pools, and beautiful long grass. There is so much variety here that you're guaranteed to get some truly beautiful South Coast Wedding Portraits, no matter the weather or the season.
Elope in Kiama


If you're planning to Elope in Kiama, then you can't not include BomboHeadland! There are also so many other beautiful locations in this area though, from Cathedral Rocks to Minnamurra Point. In fact, the entire Kiama Coast Walk would be an amazing starting point to plan your Kiama Wedding – whether for an adventure elopement or your wedding portraits!
Bombo Headland Wedding Vendors


Grazing Table: Robyn & Petra from House of Graze
Wedding Florals: Ebony from By This Gal
Wedding Videography: Josiah from Siah Walker
Would you love to plan your very own Bombo Headland Wedding Photography? I'd love to help you make that dream come true and photograph the magic for you, so that you can look back on it for life.
Did you love our Elope in Kiama styled shoot? Let us know in the comments below. We'd love to hear your thoughts!